Grant Me a Higher Love
Deeply spiritual in tone and bursting with brilliant insights, Grant Me a Higher Love: How to Go from the Relationship from Hell to One That's Heaven Sent by Scaling The Ladder of Love by Cindi Sansone-Braff takes an all-encompassing look at how we love. Meaningful and heartfelt, this book not only shows people of all ages the way to manifest and keep a great love, but also leads them to a higher ground of self-awareness.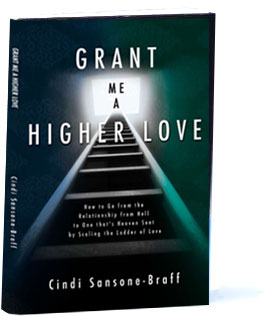 Starting from the premise that there are but two paths in life—that of fear and that of love, with wisdom and clarity Cindi teaches the art of unconditionally loving another with your entire heart, soul, mind, and body. Painstakingly thorough, these ways and means to love are further broken into nineteen easy-to-follow steps. From the concept of The Ladder of Love with its classification of relationships, to "A Detailed Explanation of the Top Seven Errors in Thinking Concerning Romantic Love," this book moves the study of love into the realm of science.
Read more at Amazon including a peek inside the book